News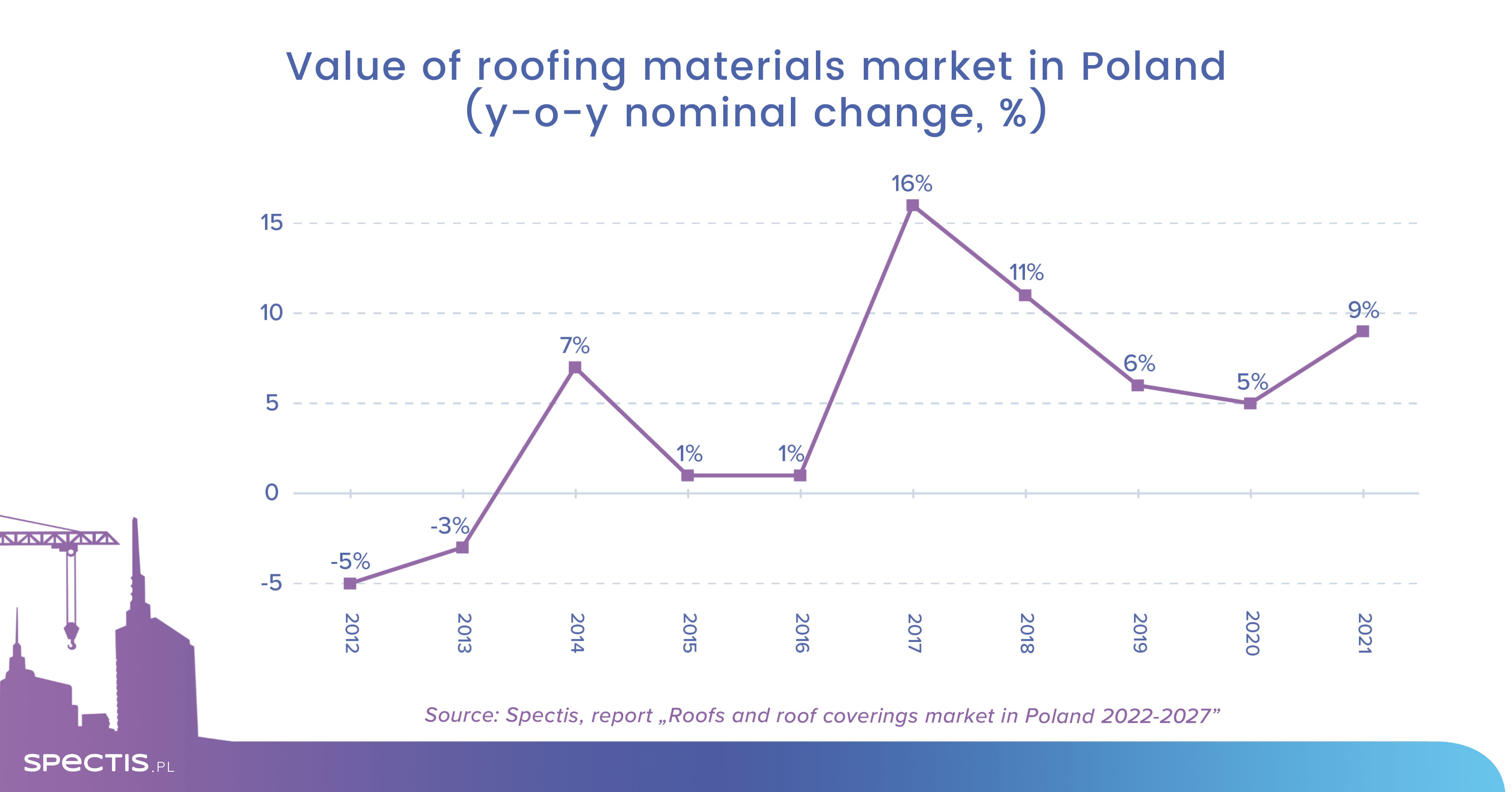 Soaring prices boost the value of the roofing materials market in Poland
02 Feb 2022
---
Revenue generated by 54 manufacturers of roofing products covered in our report "Roofs and roof coverings in Poland 2022-2027", exceeded PLN 9bn in 2020, and over 40% of that figure was contributed by roof coverings. Based on preliminary data, we estimate that the value of the market of roof coverings grew by 9% in 2021. We expect slightly slower growth of the market in 2022.
As a result of overall increases in production costs (labour, raw materials, logistics, and transport), the roofing materials sector's value grew by more than 50% in 2016-2021, which translated into an average annual growth rate of 11%. However, in the last five years the volume of production expanded by a less impressive 17.5% cumulatively in the period (or 3.5% per year).
Rising prices were the main reason behind the strong growth of the roofing materials market in 2021. A price analysis of several dozen types of roof coverings reveals that in 2021 the strongest increases were recorded for metal roofing products where the price growth rate topped 50% y-o-y in Q4 2021. Consequently, the average annual growth rate came to just under 20%. Ceramic roofing and PVC roofing membranes recorded increases of up to 20% in H2 2021 (the average annual price growth rate for these groups of products was around 8%). On the other hand, the prices of bituminous roofing products and cement products saw much more stable growth at 4% in the entire 2021.
Metal roofing materials remain the largest segment of the roofing sector in terms of value. 24 companies (out of 54 businesses presented in the report) carry products from this segment, though nine of them generated significant sales of the products (over PLN 50m). Bituminous roofing products are the second-largest segment. Out of 54 companies presented in the study, 16 companies offer products from this segment, with seven of them generating significant sales of the products.
Ceramic roofing materials are the third-largest segment of the roofing sector in terms of value. Only five out of 54 manufacturers presented in the report offer ceramic roofing products. Cement roofing and fibre-cement roofing represent the fourth-largest segment of the roofing sector in terms of value. Synthetic membranes are the fifth-largest segment, and they are an alternative solution to roofing felt. And despite a higher price, they have consistently gained an increasing share of the flat roofing market. Liquid membranes are the smallest market segment presented in the report, and they are mostly used for renovation of flat roofs.
Ask for free sample of the report
info@spectis.pl