News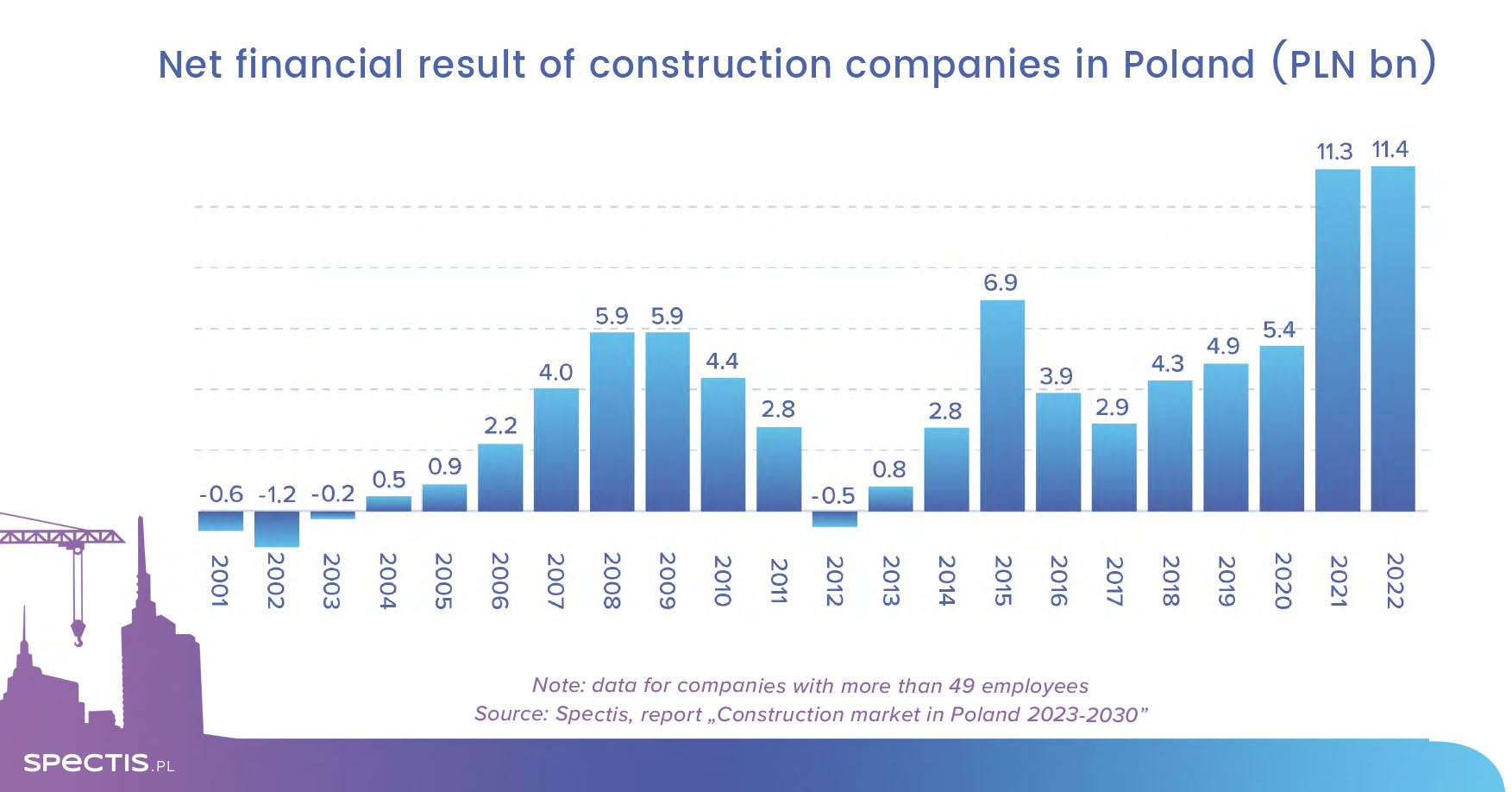 Record profitability for the Polish construction industry in 2022
19 Apr 2023
---
The "Construction market in Poland 2023-2030" report, the latest release of Spectis, indicates that construction companies managed to retain their margins in 2022 despite rising costs, recording an all-time high in terms of net profit. It was partly due to a partnership approach pursued by the contracting parties, allowing for price negotiation of selected contracts.
Record net profit of PLN 11.35bn
Just as it was the case in 2021, construction companies were severely impacted by skyrocketing prices of building materials and increased labour costs in 2022, but since reasonable pricing policies were put in place, these rising costs were also accompanied by substantial revenue hikes. As a result, last year proved to be an exceptionally successful one for the construction industry. The group comprising around 1,200 medium-sized construction firms and large construction companies generated a combined net profit of PLN 11.35bn in 2022, compared to PLN 11.25bn in the preceding year.
High profitability for building construction
Nearly 60% (PLN 6.5bn) of the profit was contributed by companies specialised in building construction projects, for which 2022 was likely the last year of high profits driven by the upturn in the residential construction segment that has lasted for the past few years. A sharp slowdown in investment activity in the segment will likely lead to lower profits in 2023. Importantly, also civil engineering companies delivered high profits last year, for a second straight year, as they reported aggregate net profits of over PLN 3.5bn. Specialist construction enterprises (involved mostly in installation and finishing projects) added PLN 1.3bn in net profit.
Record revenue for construction companies
The discussed group of companies reported the highest-ever revenue, amounting to a whopping PLN 160bn, as compared with PLN 140bn in the preceding year, on the back of substantially higher construction costs in 2022. This is why the record net profit did not translate into a record net sales margin, which amounted to PLN 7.1% in 2022, compared with 8% in the preceding year. After conversion of the net profit into net sales margin, building construction companies maintained a record margin of 9.7%, civil engineering construction companies posted 5.4% (6.6% in the preceding year), and specialist construction companies' margin was at 4.7% (5.7% in 2021).
Solid financial cushion for hard times
Apparently, construction companies have had a really successful spell of a few years in terms of profitability. Many companies already hold a financial cushion to keep them afloat during the expected slowdown. However, despite the prevalent pessimism, the latest statistics on the construction market (single-digit construction output growth in the initial months of 2023) fuel some hopes regarding the performance of the construction industry this year. Still, we caution against being too optimistic because, setting aside statistical anomalies, the construction industry's robust performance early this year is mainly owing to the civil engineering sector, whereas the building construction segment is only about to plunge into a phase of limited construction output.
Request a free sample of the report:
info@spectis.pl