News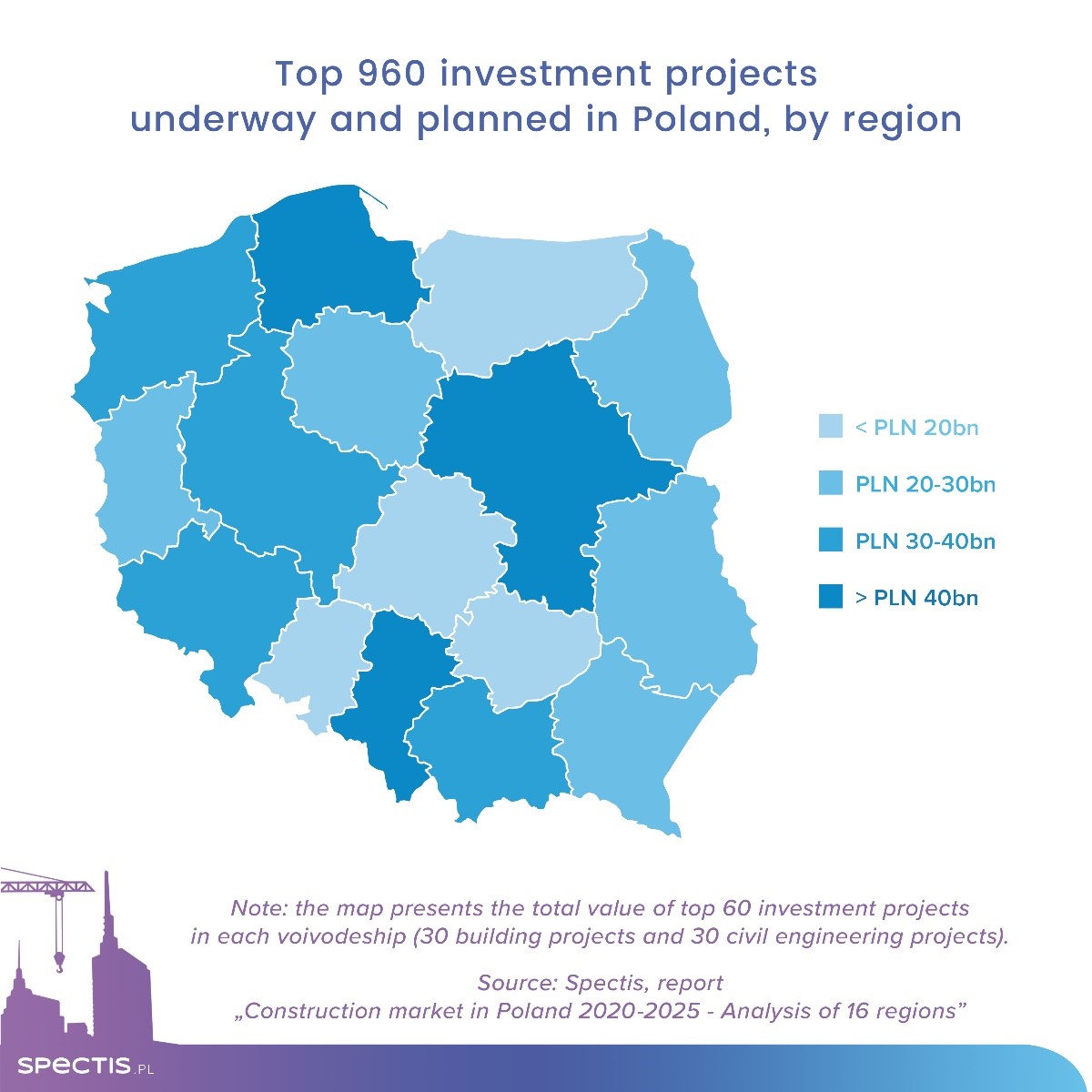 Nearly thousand top projects in Poland worth €120bn
23 Jun 2020
---
Despite a short-lasting downturn in economic activity caused by the COVID-19 pandemic, the Polish construction industry will continue to exhibit a significant potential for growth right up to 2025. Notably, the outlook for the civil engineering sector has improved compared with the previous projections. A vast majority of projects underway or planned to implemented are located in the six most economically advanced regions, which account for almost 65% of the construction market's total value.
The total value of the 960 largest investment projects underway or planned in Poland is estimated at over €120bn, according to our latest report "Construction market in Poland 2020-2025 - Analysis of 16 regions".
For the needs of the report, our team have reviewed a set of almost 1,000 projects that will make the biggest contribution to the future economic developments in the construction markets locally across the country. The study focused on the top 60 projects in each of the voivodships: 30 building construction projects and 30 civil engineering projects. The total value of the flagship projects underway tops €25bn, whereas projects in the tender or planning stage are valued at €96bn.
The value of projects covered in the report amounts to €127m per single project on average: the average figure for building structures stands at €70m, and it is a whopping €184m for civil engineering structures. The exponential average value for civil engineering projects has been driven by a number of mega-projects worth several dozen billion zlotys. Projects of that magnitude are typically subject to a high risk of delay. On top of that, they may never be completed.
A close study of feasible and viable investment plans indicates that Mazowieckie, Pomorskie and Slaskie voivodeships are in the lead in terms of project value. As far as Mazowieckie is concerned, the largest numbers of projects are planned in the following segments: road construction, railway construction, bridge and tunnel construction, airport construction, office construction and residential construction. In Pomorskie and Slaskie, the leading segments include power construction, hydro technical construction, railway construction and road construction. The regions' investment potential is further boosted by commercial, manufacturing and residential construction projects.
The following positions, in terms of total value of projects, are occupied by Malopolskie, Wielkopolskie, Dolnoslaskie and Zachodniopomorskie, the latter being the only non-top six region to boast more than PLN 30bn worth of projects.
Although the so-called Poland B continues to fall behind Poland A in terms of the value of projects, we expect an investment upturn also in Eastern Poland. It will be mostly driven by major civil engineering projects, in particular those in the road and railway construction segments.
This article is based on the latest report:
Construction market in Poland 2020-2025 – analysis of 16 regions
ASK FOR FREE REPORT SAMPLES
info@spectis.pl