News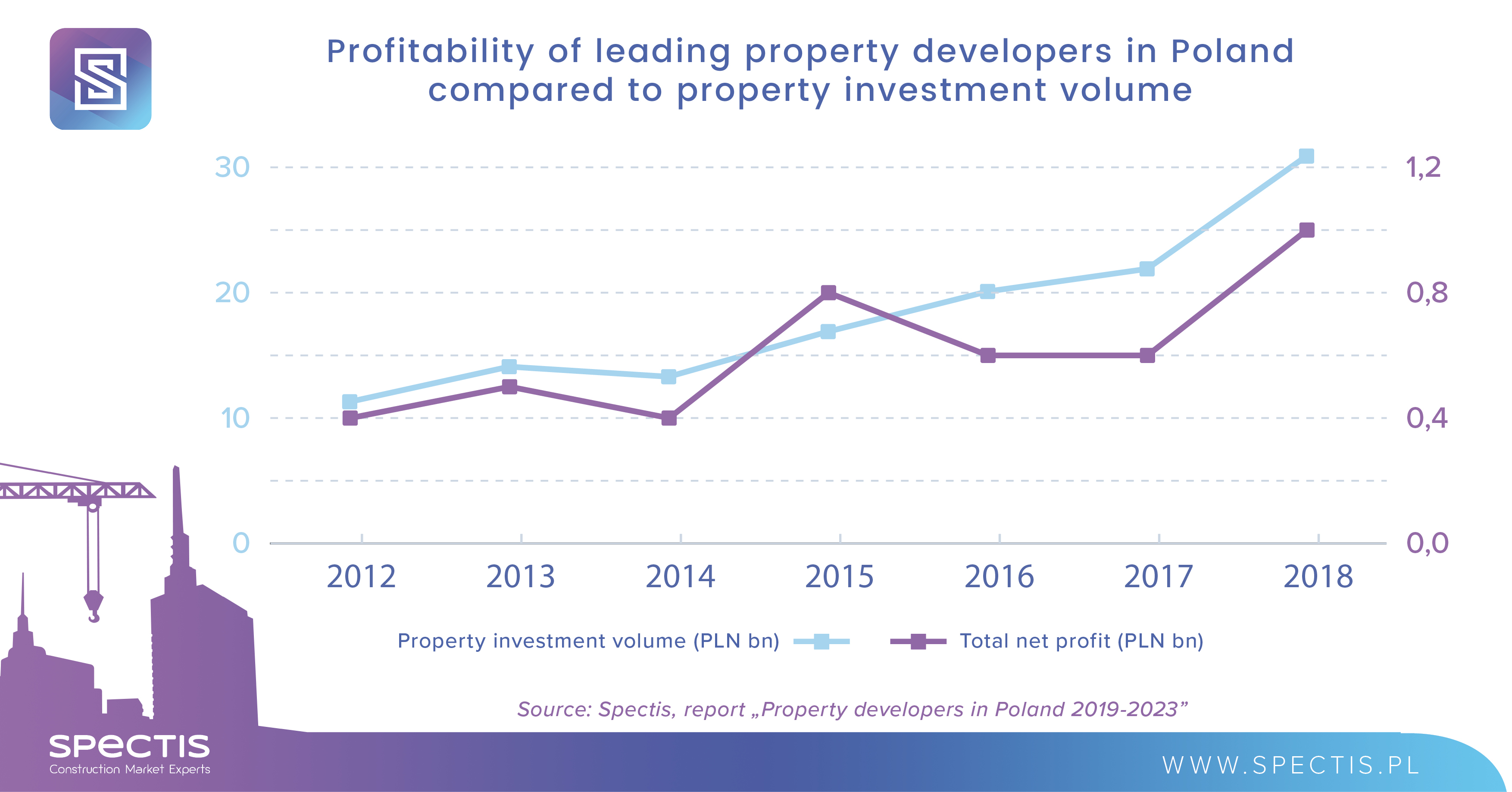 Top 30 commercial property developers in Poland report €230m net profit in 2018
19 Nov 2019
---
The aggregate net profit of the 30 largest commercial property developers in Poland hit an all-time high of PLN 985m (€230m) in 2018, which translated into a net profit margin of 25%. The latest data from the investment transaction market and property developers' interim financial statements indicate that 2019 can be as good a year as 2018 was for the industry in terms of profitability.
The aggregate net profit margin of the 30 leading office, retail and warehouse developers operating in Poland ranged between 17% and 26% in 2012-2018, which represents an average annual margin of 21%, according to the "Property developers in Poland 2019-2023" report.
A solid volume of property investment transactions in Poland, which has been consistently high in recent years, is a major factor with a stabilising effect on commercial property developers' hefty profit margins. The property investment transaction volume topped the PLN 30bn-mark (€7bn) for the first time on record in 2018. Importantly, besides office or retail properties, investment transactions increasingly involve warehouse facilities, which currently achieve the highest yields. And the developers of warehouse properties turned out to be the biggest contributors to the record-high profits reported by the 30 largest commercial developers in Poland in 2018.
The fact that commercial developers show high and stable profitability levels encourages some residential property developers to venture our into new business areas. For instance, Atal is building its first office building, Krakowska 35, in Wroclaw. The company decided to implement commercial projects with a view to making optimum use of its land bank, and it considers them as business activity additional to the core business of residential development.
For similar reasons, and also in Wroclaw, i2 Development has launched a mixed-use project. Armii Krajowej 7 is one of the developer's largest projects ever. The facility will consist of hotel rooms, business premises, office space and apartments.
Finnish-based YIT, which previously focused on the Warsaw residential market, also intends to launch its first mixed-use project in Poland. The company has a successful track-record of commercial projects in other countries, and now it plans to expand throughout Poland. YIT's first mixed-use project will be based in Gdansk. The developer intends to create sustainable urban environments which also feature office space.
Need more data? Ask for free sample report
info@spectis.pl